EPHRATA, WA November 15, 2017 — Ephrata detailer Bill Quinn of Bill the Buffman Auto Detailing was awarded a Master's Certification at the Annual Detailing Success Meeting & Continuing Education Event at the Specialty Equipment Market Association (SEMA) show in Las Vegas. A longtime "made-man" of the famous Detail Mafia, and a six-term member of the Air Force One Detailing Team at Seattle's Museum of Flight – both of which are prerequisites for Master - there is no higher measure in terms of skills, achievement, and integrity available in the detailing industry than the Master Certification with Detailing Success. To date, there are only 12 Masters among the 100+ members of the nationwide Detailing Success Network.
Detailing Success is the only detail training organization in the detailing industry to offer true Master craftsmanship status. A Detailing Success Master requires 4 to 5 years of continuous growth and development in five major areas of detailing:
Craftsmanship and skill
An extensive history of service, mentorship, and leadership to the detailing community
Professional integrity and stability as a detailing business owner
Hands-on specialized project work
Active participation in automotive-related education and technology
Bill Quinn meets every qualification, plus some!
To be considered for Master, Quinn must, and does, hold a certification from the International Detailing Association (IDA); and a Detailing Success Business, Skills, & Paint Correction certification. He is proficient in the art of polishing bright work; has an advanced understanding of automotive paint and how it reacts and responds to the environment and surrounding conditions; and he is an expert in automotive ceramic coatings, their application, and how to maintain them. Quinn is also a certified motorcycle detailer. He often field-tests new products and equipment, and instructs rookie detailers in the safe and proper use of a machine polisher so as not to burn or damage the paint.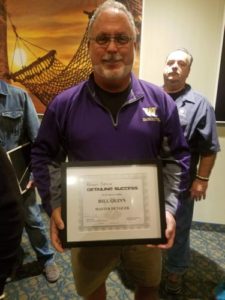 Quinn has also served as a mentor to many rookie detailers within the group. He has held supervisory positions on the AFO Team for three out of his six years on the team, including a support role operating the Genie Z-60 boomlift that takes veteran detailers up to polish the American flag on AFO's vertical stabilizer; and providing equipment storage using his Buffman mobile unit.
Masters must be active leaders in the automotive appearance industry overall. As a Detailing Success Master Detailer, Quinn has been an active participant in detailing workshops and seminars, and has represented Flex, Sonax, and P&S Detail Sales as a celebrity guest detailer at SEMA. He attended a Sonax event at the Indianapolis 500 in 2013 where he "Kissed the Bricks"; and he attends at least two major projects or events each year including the Annual Gordon McCall Motorworks Revival Detailing Team at Monterey Car Week; and he detailed one of the Blue Angels in 2016. All of these events and Air Force One involve detailing collections valued in the multimillion-dollar price range.
Masters must be active leaders in the automotive appearance industry overall. Quinn has represented Flex, Sonax, and P&S Detail Sales as a celebrity guest detailer at SEMA. Some Masters sit on Boards of Directors for professional organizations like the IDA, and are part of detailing teams for Barrett Jackson and Mecum Auto Auctioneers.
Masters must own their own detailing businesses for a minimum of five years, and have no financial or significant marks against their reputations from their local Better Business Bureau. Quinn opened Bill the Buffman in 1999; expanded into a larger building with a showroom in 2016, as well as opening a West Coast Hogfather Motorcycle Detailing shop.
Quinn's daughter, Shae Morrissey is also an IDA-certified detailer and the company's general manager. Quinn's wife Lynne manages the commercial cleaning division of the Buffman business; both of whom he credits for most of the company's success. Quinn is also an active member of his local Chamber of Commerce; attends numerous regional car shows and business expos in his surrounding area; and holds Cars & Coffee events for car enthusiasts at his detailing shop in the spring every year. His and his family's work ethic is unmatched in the state of Washington.
"It has taken several years of very hard work and some long hours to achieve Master status, but reaching this level means I can bring a higher quality of service to my customers, who have high expectations when it comes to their automotive investments," says Quinn.
For more information about Bill Quinn achieving Master Detailer's status, and more details about his amazing work over the past several years, contact him at (509) 398-1284 or Kimberly Ballard at (256) 653-4003.