Servicing all of Grant County including Ephrata, Moses Lake, Quincy, Soap Lake, Grand Coulee, Royal City and more ....
It isn't work. It isn't a job. It's what we do every day - all day!
Every day, all day we clean stuff at Bill the Buff Man. Cars, boats, motorcycles, RVs, and trucks of all shapes and all sizes; tractors with a backhoe thrown in for good measure!
We enjoy being the most diverse detailers and cleaning specialists in the Pacific Northwest. No one does it better than Bill the Buff Man!
Located in the scenic Columbia Basin, Bill the Buff Man services a 40 square-mile area of Grant County, Washington from Grand Coulee in the north to Othello in the south, Wenatchee to the west and Wilber to the east.
In addition to our automotive detailing shop in Ephrata, BTBM also owns the West Coast Hogfather Motorcycle Detailing and a full service commercial janitorial, pressure washing, and trucking/heavy equipment cleaning division known as BTBM Business Solutions, Inc.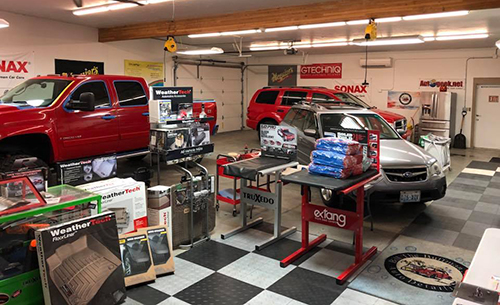 Get the Buff Man's Stuff Newsletter
Back From Air Force One: Presidential Treatment
Summer Road Repair & Road Paint Damage
Get it Off Quickly!
&nbsp
While we thank our road construction crews for filling in the potholes and re-painting road surface markings, paint remains wet and tacky for several weeks, especially in the hot sun! It often flies up and leaves streaks and speckles on the bumpers, door, and lower side panels. BTBM can remove it without removing your car paint too!
Buy Gift Certificates Online
Now Resellers for Towel Pros Microfiber Towels
Summertime Savings on Protective Coatings
Your skin is not the only victim of the sun's dangerous UV rays.
Both inside and out - the exterior paint experiences advanced oxidation while on the inside, the sun dries out your hard plastics and vinyl, while fading your upholstery.
&nbsp
Get a quote & discount code for Gtechniq Protective Coatings
Buy Gift Certificates Online
Last Car Show of the Season!
&nbsp
2018 Columbia Basin-area Car Shows & Festivals:
September 15 in Coulee City: Decades of Distinction Sun Lake Car Show
Improve Street Performance with a Detail from West Coast Hogfather
It's still a little chilly on the open road, but it's not too early to start prepping your bike for the road ahead!
BTBM is already kicking things into gear with our popular Knucklehead Detailing Package. We will finish it off with a FREE bottle of Hog Gloss.