Servicing all of Grant County including Ephrata, Moses Lake, Quincy, Soap Lake, Grand Coulee, Royal City and more ....
It isn't work. It isn't a job. It's what we do every day - all day!
Every day, all day we clean stuff at Bill the Buff Man. Cars, boats, motorcycles, RVs, and trucks of all shapes and all sizes; tractors with a backhoe thrown in for good measure!
We enjoy being the most diverse detailers and cleaning specialists in the Pacific Northwest. No one does it better than Bill the Buff Man!
Located in the scenic Columbia Basin, Bill the Buff Man services a 40 square-mile area of Grant County, Washington from Grand Coulee in the north to Othello in the south, Wenatchee to the west and Wilber to the east.
In addition to our automotive detailing shop in Ephrata, BTBM also owns the West Coast Hogfather Motorcycle Detailing and a full service commercial janitorial, pressure washing, and trucking/heavy equipment cleaning division known as BTBM Business Solutions, Inc.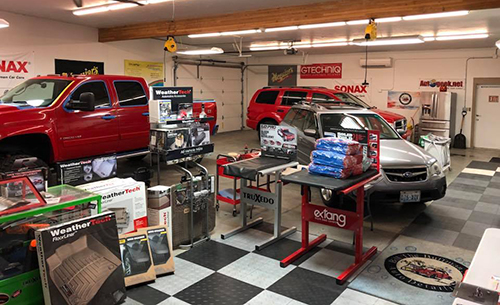 Get the Buff Man's Stuff Newsletter
New Spring & Summer Hours
&nbsp
8:00 a.m. - 5:00 p.m. Monday - Friday
Saturday by Appointment Only
Don't Take On Summer Without an Application of Gtechniq Smart Fabric
&nbsp
It's Coming!
Beach trips, camping trips, picnics, and summer sports - we are all looking forward to it, BUT ... it comes with its share of filth! An application of Gtechniq Smart Fabric will PROTECT against these coming disasters!
Celebrating 2 Years in Our Expanded Location
We've Come a Long Way, Baby!
Visit our showroom and grab a cup of coffee and peruse our Titan Truck Equipment & Accessories catalog where you can find anything you have ever dreamed to enhance the looks, functionality, and performance of your truck, van, or work truck.
We sell the finest in professional car care products and accessories for cars and trucks including SONAX Car Care, PIAA wiper blades, & WeatherTech Floor mats & liners. We don't sell anything we don't recommend or use ourselves!
It's Car Show Season!
&nbsp
2018 Columbia Basin area Car Shows & Festivals:
May 26 in Downtown Moses Lake: Moses Lake Classic Car Club Spring Festival & Car Show
June 9 in Downtown Ephrata: Ephrata Car & Toy Show
June 9 in Wilson Creek: Lake Chelan Car Club Little Big Show
September 15 in Coulee City: Decades of Distinction Sun Lake Car Show
Newly Certified in Advanced Headlight Repair
Bill the Buff Man has introduced a new, more advanced headlight repair technique! Our new 6-step headlight lens restoration service
corrects your impaired headlights to 100% clarity for $75 to $250 - compared to $400 to $1,500 for replacement!
High Octane Cars & Caffeine Returns May 19 from 8 a.m. - 12 p.m.
&nbsp
Join us for a high-octane discussion about everything cars & trucks, whether it is your current ride, an old favorite, a dream car, or something else as long as it has wheels and rolls! Come share your stories
Improve Street Performance with a Detail from West Coast Hogfather
It's still a little chilly on the open road, but it's not too early to start prepping your bike for the road ahead!
BTBM is already kicking things into gear with our popular Knucklehead Detailing Package. We will finish it off with a FREE bottle of Hog Gloss.